Discussion Starter
·
#1
·
About a month ago I was on the freeway, with no warning it lost power. Like if I'd turned the key off but the dash was still light and working. Pulled over, wouldn't start- wouldn't even try. As if there's no gas or no spark. Waited maybe 5 minutes, then it starts. This has happened 3 times now. I've checked the fuel pressure and it is the same whether it's a cold start or recovering from this issue. So I suspected electrical/spark issues. The last time it occurred I was data-logging, graphs below.
What jumps out at me are the MAP and throttle readings- the coolant temperature too but it recovers. I checked and the readings correspond to 4V being read from the sensors. I thought maybe if a sensor ground somewhere was loose or failing somehow that might cause this, but that should make it go to 5V, not 4. I checked the power and ground connections to the ECU (Infinity 7) and they are all good. Not surprising; if it is a sensor ground issue I think that is inside the Infinity.
Any thoughts? Other parameters I can plot to help figure this out?
1st datalog screen:
Zoom in: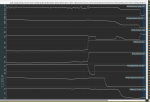 2nd datalog screen: