*This post is purely for entertainment purposes and is not to be considered advice or endorsement of any action. Any discussions are for off-road use only.
It has been ages since I have posted here so this is going to be a long post. For those who just want to get to the point, you can watch this minute long video I threw together:
Mod list is here in PDF:
https://tinyurl.com/604-viper-mods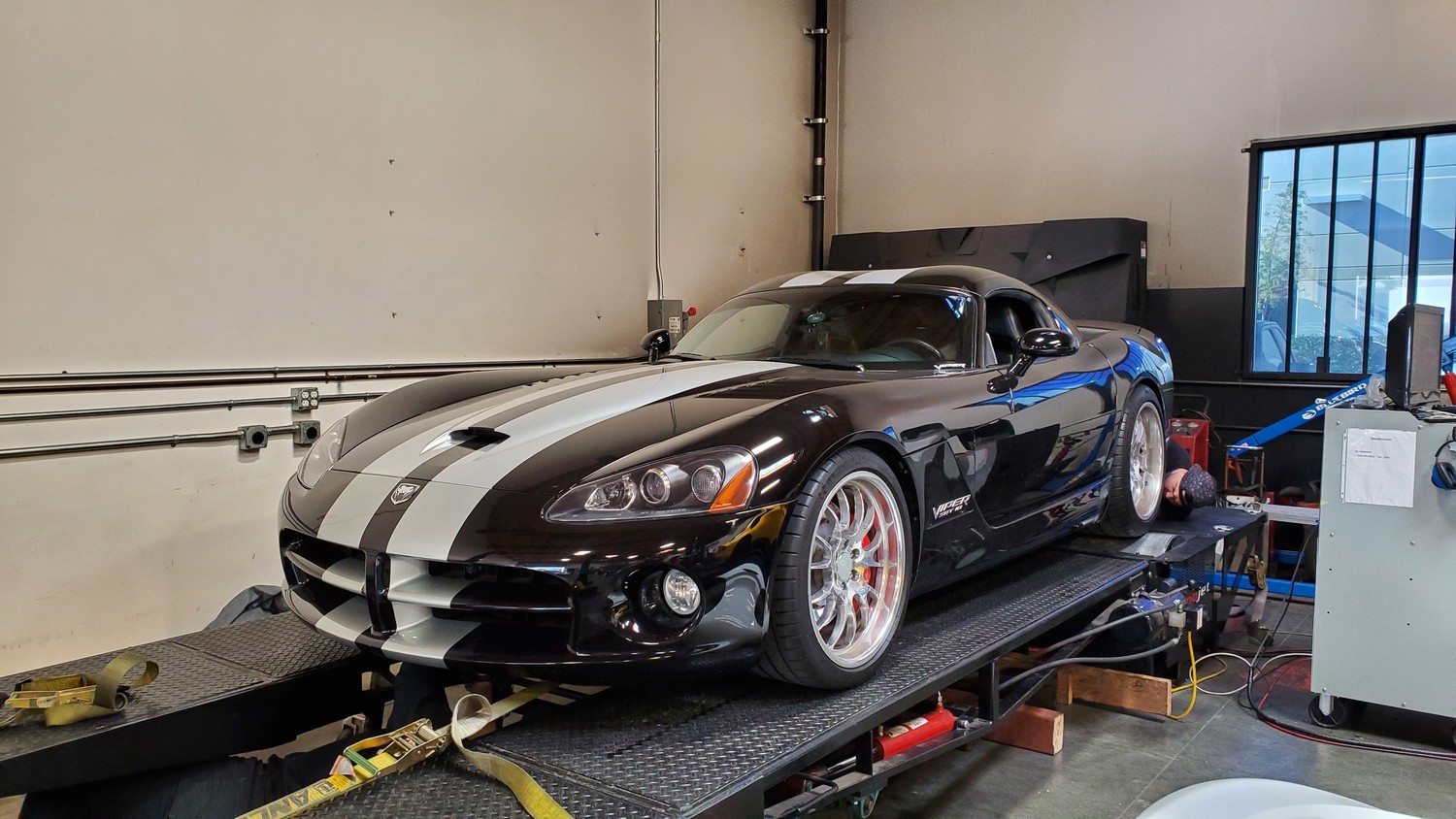 The car has certainly come a long way from totally stock to initial mods of headers/exhaust/tune and finally to the heads/cam setup she is now. I have been running my current setup for about 10 years, with the exception of the recent SCT/dyno tune by Todd Abrams @ A&C Performance. I had an absolutely awesome experience working with Todd and totally recommend A&C Performance! More on that later….
Some history…back around 2009/2010, DC Performance had put together a heads/cam package running on my stock bottom end. It ran strong and drivability was good. Unfortunately, I later lost the motor at a Spring Mtn. track event. The main damage was to the bottom end. For the rebuild, we had Arrow Racing Engines build a forged bottom end and had them reuse the Jeff Morey Stage 3 Heads and Jeff Morey Street Cam as well as my other existing go-fast goodies. The car came back together better than ever and now more bulletproof. With a package like this obviously there is a desire for gobs of power, but I still cared very much about drivability and being able to live with it day in and day out. I would gladly give up 20-40 hp for better drivability. Fortunately, I did not feel that I had to give up much and still got a power level I was happy with in a good driver that I could run every day if I wanted to. She was also able to pass CA's tailpipe smog test. DC Performance and Dan Cragin put together a solid performance package and took good care of me and the car. It was sad when the West LA shop closed down.
For bragging rights and grabbing attention, peak dyno numbers are great, but it was never something I was solely focused on. I wanted real, usable power that could give my acceleration some ferocity. This was one of the reasons for the 3.55 gears in my setup. Sure it would cause me to post lower dyno numbers, but the improvement in acceleration was unquestionable. As most of you know, dyno numbers should only be used as a guide and that dyno results can vary on any given day and especially between different shops. Of course, it's still fun to see the numbers for a little bench racing. The best we were able to wring out of her on DC Performance's Dynojet was 590 RWHP and 544 RWTQ. I was happy with the setup and how she drove and she stayed like that for a decade. Man 10 years really goes by fast!
I am going to make a separate post about this next subject because I think it is a big enough topic to warrant it- But for now….In 2015, CA changed their smog test procedures so that model years 2000 or later were no longer tested via tailpipe sniffer, but instead scanned via the OBD2 port. The smog scanner is looking for Readiness Monitors to be set and flagged as ready. The notoriously difficult one to set was the Catalyst Readiness Monitor. And without this one monitor set the car could never pass smog. I struggled with this issue for the last 5 years! I went back to DC Performance's tuner to get my PCM re-flashed to ensure that all smog related functions and sensors were turned on. I tried all types of drive cycles to no avail. As time went on, I moved down from LA to San Diego and I had the fortune of getting in touch with Todd at A&C Performance. I was able to get some dyno time with Todd to see if we could get the Cat Monitor to set by running drive cycles in a controlled environment. Unfortunately, this mission was also a bust with no luck on getting that Cat Monitor to set. Todd did his best to help out and spent way more time with me than I paid for on a setup from another shop! On a side note…he was able to identify a rattling belt tensioner that needed to be replaced (and I was just living with that sound thinking it was normal HA!). In the end, we concluded that the drive cycles were probably not going to set this monitor… the problem ran deeper. Todd earned my respect that day by just how much time he spent trying to help me sort this thing out. He was very realistic on what we could do next and noted that a re-tune may be in order, but that it would be a more costly option and even then he could not guarantee the Cat Monitor would set. I kept the option of a re-tune on that back burner for 2 years.
Smog season came around again and this time I made it my mission in life to solve this problem! I started off by trying every drive cycle I could find, based on the results of others…no joy. I called the old PCM Tuner to triple check "Are you sure there is nothing in the tune that is preventing this Cat Monitor from running?!". He gave me assurances that it should all be working fine, but certainly it wasn't because this pesky monitor was just not setting! Something kept gnawing in the back of my mind that the tune in some way was as fault. I kept trying more drive cycles and it is worth noting that OBD2 drive cycles often have you drive the car in a way that no Viper owner ever drives their car! It was during one of these drive cycles where I picked up some misfire codes. Then on another drive cycle it picked up a lean error code. Those were the final straws! I decided to throw down and just re-tune the whole darn thing.
My tags were set to expire in a week when I called Todd @ A&C Performance. Todd and his team do excellent work and really do bend over backwards to help their customers. This is why there is usually a backlog of cars at the shop and they are always busy. The wait is worth it! Fortunately for me, I explained my situation to Todd and he felt he could get a tune in and out in the same day so he moved his schedule around as best he could to get me in as soon as possible. It turned out to be the very day that my tags were due to expire, but hell I was not about to turn down that opening. Todd strongly recommended I go back to the stock fuel injectors…good thing I still kept mine! I dusted those guys off and had them cleaned and flow tested. I understand that each shop goes about things differently, but back in the day DC Performance told me I needed to go with larger injectors for my heads/cam build. This was something I was never too keen on since the stock Mopar injectors had a far superior spray pattern than any aftermarket one. The stock spray pattern was pointed directly into the intake ports of the cylinder heads. This was supposed to yield better idle quality and snappier throttle response. Todd assured me that he has tuned 700+ RWHP Vipers with the stock Mopar Injectors. So 10 little Mopar babies were going to make their way back home!
The day before my appointment I called in to reconfirm, but Todd was out sick and I mean really sick! His office manager, Sunny, was able to get in touch with him. He was going to come in the next day to tune my car come hell or high water! For the sake of his health, I would have been fine with rescheduling, but bless his heart! Dyno tune day came and Todd, true to his word and despite being sick as a dog, came in to tune my car. As someone who owns his own business I gotta give Todd mad props for customer service! The work on the car moved along straightforward and without any fanfare. From swapping out the injectors to the dyno pulls and finally the tune and flashing it to the PCM…all went off without a hitch. Now remember what I said earlier about dyno numbers especially between different shops? Its true…but I'd be lying if I said there wasn't a little kid inside of me giggling when the Dynojet numbers posted with 604 RWHP and 565 RWTQ. I now have a printed sheet that shows my naturally aspirated Viper cracking 600 RWHP…it's a cool milestone even if just for bench racing.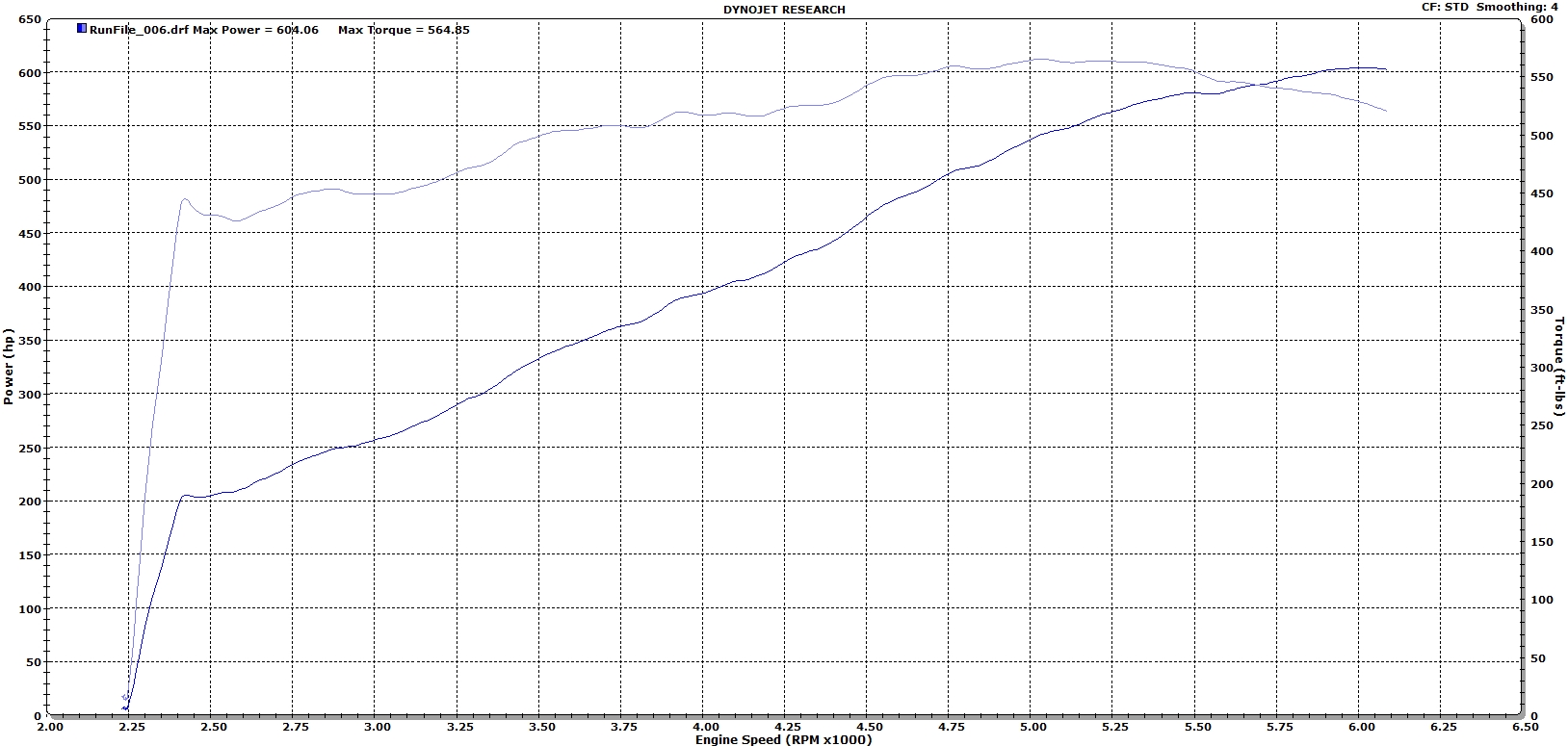 Todd also addressed the misfire codes and the lean code. He was directly involved in fine tuning every drivability tweak and polishing anything that was not up to his high standards as to how the car should properly run. It was truly an honor to watch him work. Case in point, he had me ride shotgun (holding the Chrysler DRB III scan tool) as we prepared to do test drive runs around the block. He then noticed that the voltage reading on the Throttle Position Sensor (TPS) was out of range. I shrugged because the car had always run like that all these years and the adjustment range on the stock TPS was limited to nil. Todd said this was not right and should be addressed otherwise the TPS readings would not get processed properly affecting drivability and other sensor calculations. Todd had one of his crew remove the TPS and modify it for more voltage range adjustability. The TPS was then adjusted to be in voltage range and locked down. All this was part of the service and no extra charge to me. We then went on the test drive. I lost count how many times we went around the block with Todd pulling the car over many times to pop open the hood to adjust a setting on the throttle blades. He was checking everything from how the car accelerated, how it decelerated, to how smoothly and quickly the RPMs dropped when the throttle blades were suddenly fully closed. This is the type of mind and personality you want working on your car. Even with all this obsession over the details and getting things right, I was still able to get out of there by 1:30pm the same day!
I made the long drive home and was able to avoid traffic (not bad for a weekday afternoon). The Viper drove awesome! DC Performance had put together a great package from 10 years ago and Todd @ A&C Performance was able to fine tune her and get it dialed in all these years later! Who knew the old girl still had some performance left to be tickled out of her?! The final test would come after nightfall when I would once again try a drive cycle. I elected to do the official Chrysler Drive Cycle for setting the Cat Monitor as it only required a steady speed of between 30-45 mph for about 2 mins. It was one I had tried many times before and it always failed to set the monitor. At midnight my tags would technically be expired. I did ONE drive cycle and the Cat Readiness Monitor ran and set showing ready! I was shocked. Could it be that after just half a day in Todd's hands not only did I break 600 RWHP, but my 5 year battle with the Cat Monitor was finally over?!
The next morning (on technically expired tags) I drove the Viper to the local smog station and passed with no problems! Thank you Todd! You are da man! I now had the great fortune of having worked with Dan Cragin @ DC Performance who a decade ago put together a great foundation with a heads/cam package...and now currently with Todd @ A&C Performance who dialed in my ride to get her to where she is today. They are like the book ends of a grand fairy tale with a great journey where at the end the princess lives happily ever after prancing around in her 604 rearwheel horsepower tiara…okay maybe not quite like that.