Doesnt this Viper have the same Log that i have on the front of my PC? This is the viper that inspired me to build Venom: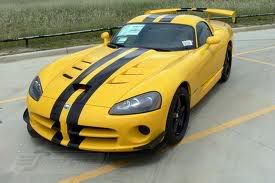 Lol and you guys are a hard bunch to please. I thought you would love the idea that not only was it based on a Viper but it beat out all the other computers to win the MOTM.There are thousands of builders and only a few were nominated to be even in the competition I think the Viper theme is what won it. Can you imagine getting out of you nice Yellow Viper like the one above walking in the house and sitting beside a Viper Pc as you log onto Viper Alley
Oh yeah response to the Turbo charging it its basically the same thing as Overclocking.Its pushes the Cpu to the limit and beyond if you keep going just as a Turbo Charger or Supercharger would. And please don't get me wrong i am by far a computer geek i just Love Performance in any Flavor.Even my sons Power wheels are out of control.I have to put a center block in the front of his Power wheels jeep to keep it from flipping over backwards.The transition from Mechanic to PC Tech was very simple because most of the cooling and ideas are the same concept as working on cars.I still have to paint with HVLP guns,Still have to run either a coolant or Refrigerant,Always has to keep an eye on Temperature and Voltages which voltage could be considered boost on a supercharger.To much boost without the proper head Gaskets or to high of compression pistons and i think you all know what happens then.I honestly think you guys would really dig it if you actually got to sit there and dyno to you with cars or benchmarking to a Pc and see what they can do.
Anyway i hope you guys are taking the ladies out somewhere nice tonight
Have a great day everyone.
Also by chance do one of you actually own this car i showed? I love it!
Oh yeah not sure if i posted it or not but a rep from Dodge already has contacted me.He is trying to see what he can do.I emailed him with the price i was looking for and he still called so who knows.Hard to believe i already have $5,000. invested and i figure another $6,000 and it will represent the Viper in a more proper manner.
Like it or Hate it i still wanted to share it with you guys.Because I LOVE your Cars!
Take Care MybadOmen. Cya soon